I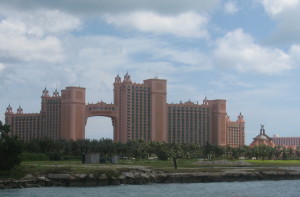 don't always travel by cruise, I actually love to have a good resort experience in one special spot. My kids have been urging me to go to the Atlantis to try out their incredible water park, so I had to take a water taxi over to see what the fuss was all about. First of all, the option of just walking from the pier to shop first, then drop packages off in the cabin before heading back to the water taxi worked out great. There is rum, diamonds, watches, rumcake and lots of duty free goods within walking distance from the ships.
If you didn't pre-book a shore excursion there were plenty to choose from alo
ng the pier. The water taxi cost $6 for a round trip from the pier to Paradise Island. There is a short walk involved. There are normal taxis for $4 which would take you door to door, but I love boats.
There is a definite difference between the tourist trap ship area and the more upscale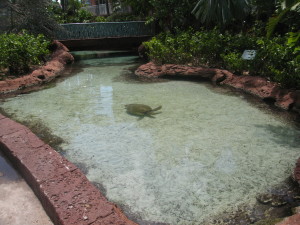 tourist trap Atlantis area. Atlantis is amazing, huge, beautiful, palacial. When you walk through the guest areas, it's very private, quiet and the streams have sea turtles swimming t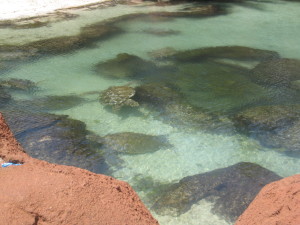 hrough.
The Atlantis has an aquarium, water park, private beach, upscale shopping, casino, entertainment, kids programs and lots of activities. Next door is the Riu, an all-inclusive resort.
The Riu share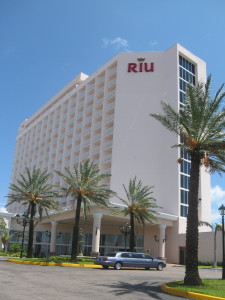 s the view, beach and general area of the Atlantis. It's smaller, more quiet, but the pool and beach area of all the resorts were packed with people.
Coming soon will be the largest complex with a resort and casino by Melia. They have had many delays so we're unsure of the opening date at this point.
For those intereste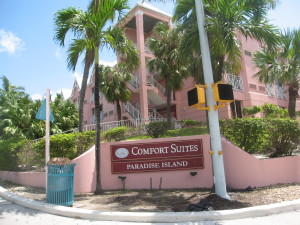 d in saving some money, you can book a hotel room at the Comfort Suites of Paraside Island and use the facilities of the Atlantis.